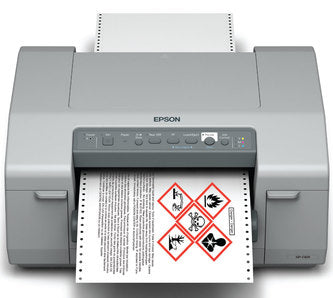 Epson GP-C831 Color Label Printer SKU C11CC68121
$2,650.00
Epson GP-C831 Color Label Printer SKU C11CC68121
Epson GP-C831 Color Label Printer – Print BS 5609 Certified 8-inch Labels on Demand
The Epson GP-C831 label printer makes printing your own durable GHS large format drum and chemical labels – and BS 5609 certified labels – a simple matter. This rugged label printer is the first BS 5609 certified inkjet label printer. The GP-C831 label printer, you can take charge of your chemical drum and harsh environment label printing needs. The GP-C831 color label printer is also a wide format label printer capable of printing labels as wide as eight inches across and 22 inches in length. Whether your labels will be exposed to chemicals or saltwater, it's no longer necessary to outsource your printing requirements. Do it in house and reduce your costs overall.
Epson GP-C831 Color Label Printer Features
This wide format Epson GP-C831 color label printer includes a high-speed USB port, parallel port, and Ethernet port to network your GP-C831 printer. It uses an 8-pin tractor feeder and is capable of print speeds of 16 and a half pages per minute. This is a rugged printer designed for heavy industrial use. With its MicroPiezo® inkjet technology system, the printer is capable of printing labels in beautiful 720 by 720 dpi resolution. The printer features pigment-based inks in individual cartridges for exceptional colorfast characteristics as well for minimizing ink waste.
Ideas for Printing with an Epson GP-831 Color Label Printer
Use the wide Epson GP-831 color label printer to print:
Large format (up to 8 inches wide) chemical and GHS drum labels
BS 5609 certified labels
Labels intended for harsh environments or saltwater immersion
Wide labels and barcodes
Household product labels
Labeling applications in laboratories and research facilities
And much more…
Media for the Epson GP-C831 Color Label Printer
The Epson GP-C831 Color Label Printer accepts four separate ink cartridges: Cyan GJIC5(C), Magenta GJIC5(M), Yellow GJIC5(Y), and black GJIC5(K). 
The Epson GP-C831 accepts a variety of blank labels and tags up to 8 inches wide. In addition to Epson GP-C831 matte, polypropylene labels, and high gloss label and tag stock, GP-C831 BS 5609 certified Chemical labels designed to withstand the harshest environmental conditions. 
Related Products